Shortlisting can feel like a mammoth task. Take a too high-level approach and you'll be left with the sneaking suspicion that you missed something important. Get bogged down in the nitty-gritty, and everyone gets overwhelmed and demoralised.
Our co-founder Andy recently directed a shortlisting process to narrow around fifty applicants to a twelve-strong interview list. Saying goodbye to three-quarters of an applicant pool is never easy, so we decided to share his shortlist process in the hope that it could help others attempting a similarly gruelling task.
(Please note: none of the screenshots shared here include anything sensitive or confidential! We recreated the process with dummy info to share it with you all.)
...
View Full Post
---
Asking for feedback is only slightly easier than giving it - and taking it can be even harder. How often have you asked for a critique and received "it's fine"? How often have you been the person saying "it's fine" because you don't want to create any conflict? Dismissive responses leave the requester disappointed and the responder feeling like they could have done better.
The truth is that most of us have to give feedback in our professional lives. Whether we're working with a team of colleagues on a project, talking directly to colleagues, or discussing a task with a direct report, feedback helps everyone to move forward with positivity, honesty, and an improved iteration or understanding.
Why is it difficult to give great feedback?
Giving helpful feedback is tricky. It requires us to do more than a surface sweep of our thoughts; we have to think deeply. That can be hard to do if we're in the flow of another task, or we weren't expecting to be asked.
...
View Full Post
---
We work in our businesses every day. Carefully ticking off each task, working with colleagues, meeting the demands of our clients and customers - all important action steps. But when was the last time you took the time to step back, plan ahead further, or think a little more strategically?
Our Understanding Your Business Ideaflip templates set out a variety of processes. Each aims to help you and your team members to understand your business a little better - from detailed internal methods, to taking a birds-eye view.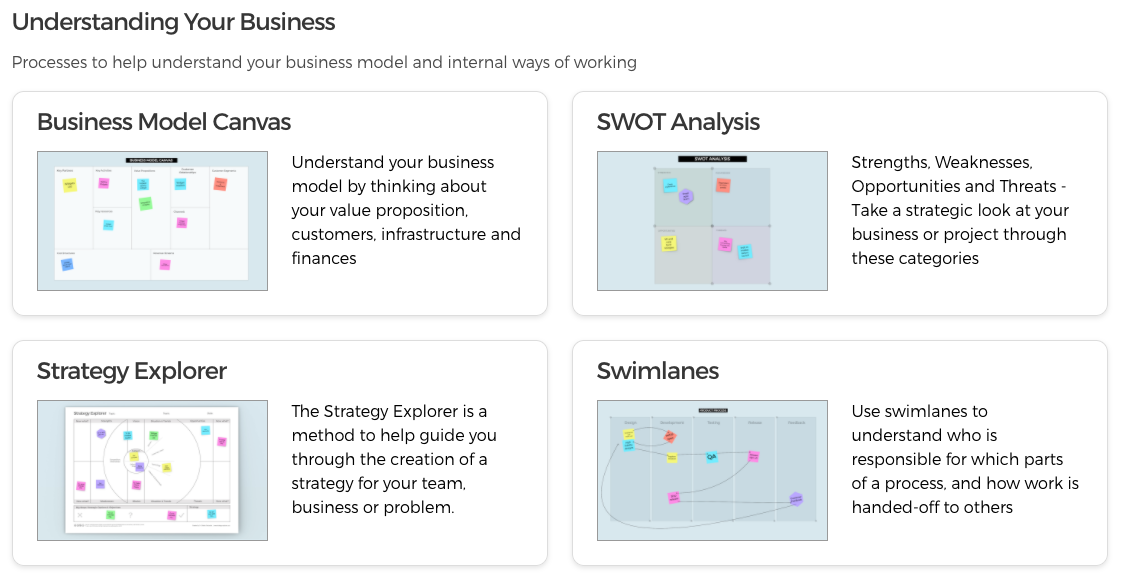 ...
View Full Post
---
Your meeting is overrunning. Someone's delivering an unhelpful monologue so you're clearing emails on the sly, wondering why you were invited. Sound familiar?
Meetings have become synonymous with wasted time. When working from home, the lack of actual human contact adds a whole new level of drudgery. We know. We've been there. We are there. But meetings don't have to be a necessary evil. After all, a meeting is just a bunch of people that need to have a chat. With a bit of attention, awareness, and creativity, you can make sure that discussions are useful, empowering, and maybe even fun.
Use our 5 criteria to steer your team towards holding an effective meeting.
...
View Full Post