If you've used Ideaflip before, you'll know that you can delete notes (and anything that's stuck to them) by dragging them to the trash can. You've probably also drawn a group around a set of notes and dragged them to the duplicate icon to quickly create copies.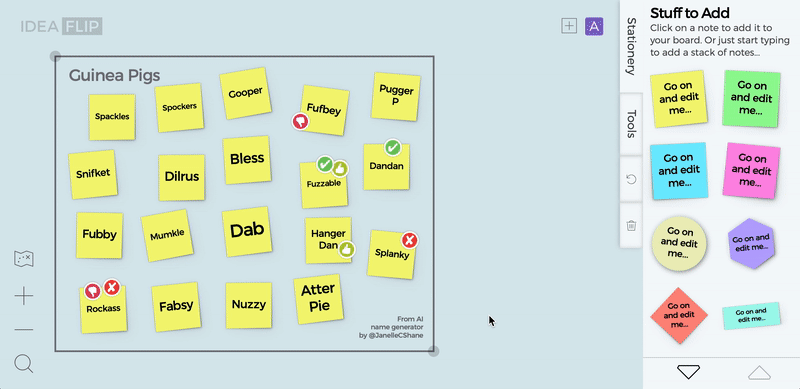 However, working with an arbitrary set of notes that aren't next to each other can be a bit tricky. So, Ideaflip now lets you select a set of notes just by clicking.
...
View Full Post
---
Shortlisting can feel like a mammoth task. Take a too high-level approach and you'll be left with the sneaking suspicion that you missed something important. Get bogged down in the nitty-gritty, and everyone gets overwhelmed and demoralised.
Our co-founder Andy recently directed a shortlisting process to narrow around fifty applicants to a twelve-strong interview list. Saying goodbye to three-quarters of an applicant pool is never easy, so we decided to share his shortlist process in the hope that it could help others attempting a similarly gruelling task.
(Please note: none of the screenshots shared here include anything sensitive or confidential! We recreated the process with dummy info to share it with you all.)
...
View Full Post
---
We've revamped the bottom left overview area of an Ideaflip board to make it easier for you to find your way around.
Zooming in and out
As well as using your mouse scroll wheel and/or trackpad, you can now zoom in and out with the handy buttons in the bottom left of a board: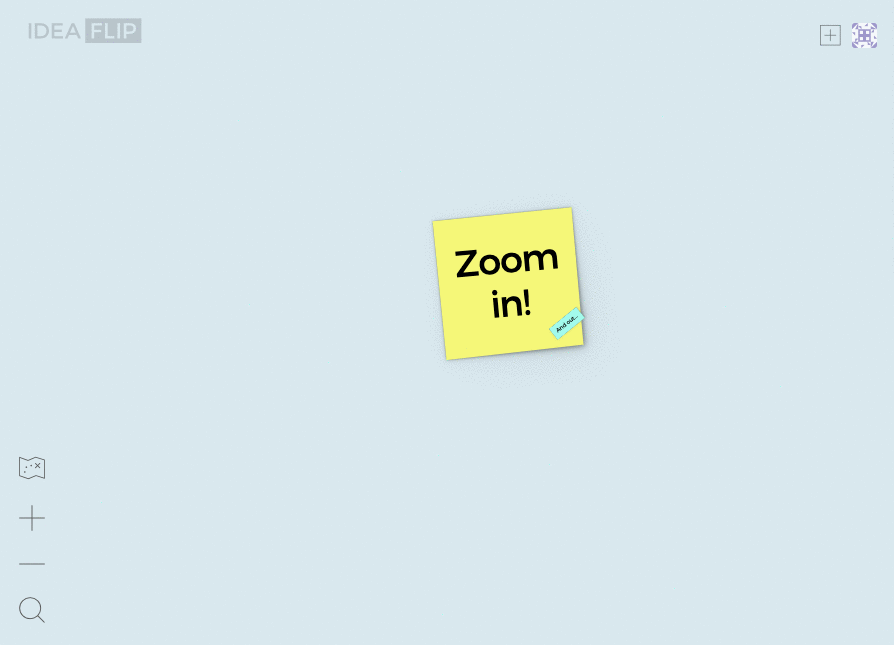 ...
View Full Post
---
The Ideaflip board invite modal just got simpler and more powerful! Now you can see a list of all members of your board, and adjust their permissions or remove them. And this comes with a much cleaner and simpler interface - We hope you like it!

Inviting users
When you invite a user, you'll see that they are pending until they've accepted the invitation in their email inbox. If the invite has expired, you can quickly resend them a new one:
...
View Full Post
---
Asking for feedback is only slightly easier than giving it - and taking it can be even harder. How often have you asked for a critique and received "it's fine"? How often have you been the person saying "it's fine" because you don't want to create any conflict? Dismissive responses leave the requester disappointed and the responder feeling like they could have done better.
The truth is that most of us have to give feedback in our professional lives. Whether we're working with a team of colleagues on a project, talking directly to colleagues, or discussing a task with a direct report, feedback helps everyone to move forward with positivity, honesty, and an improved iteration or understanding.
Why is it difficult to give great feedback?
Giving helpful feedback is tricky. It requires us to do more than a surface sweep of our thoughts; we have to think deeply. That can be hard to do if we're in the flow of another task, or we weren't expecting to be asked.
...
View Full Post
---
You can now use Ctrl-F (or Cmd-F) to find notes with a snippet of text in them!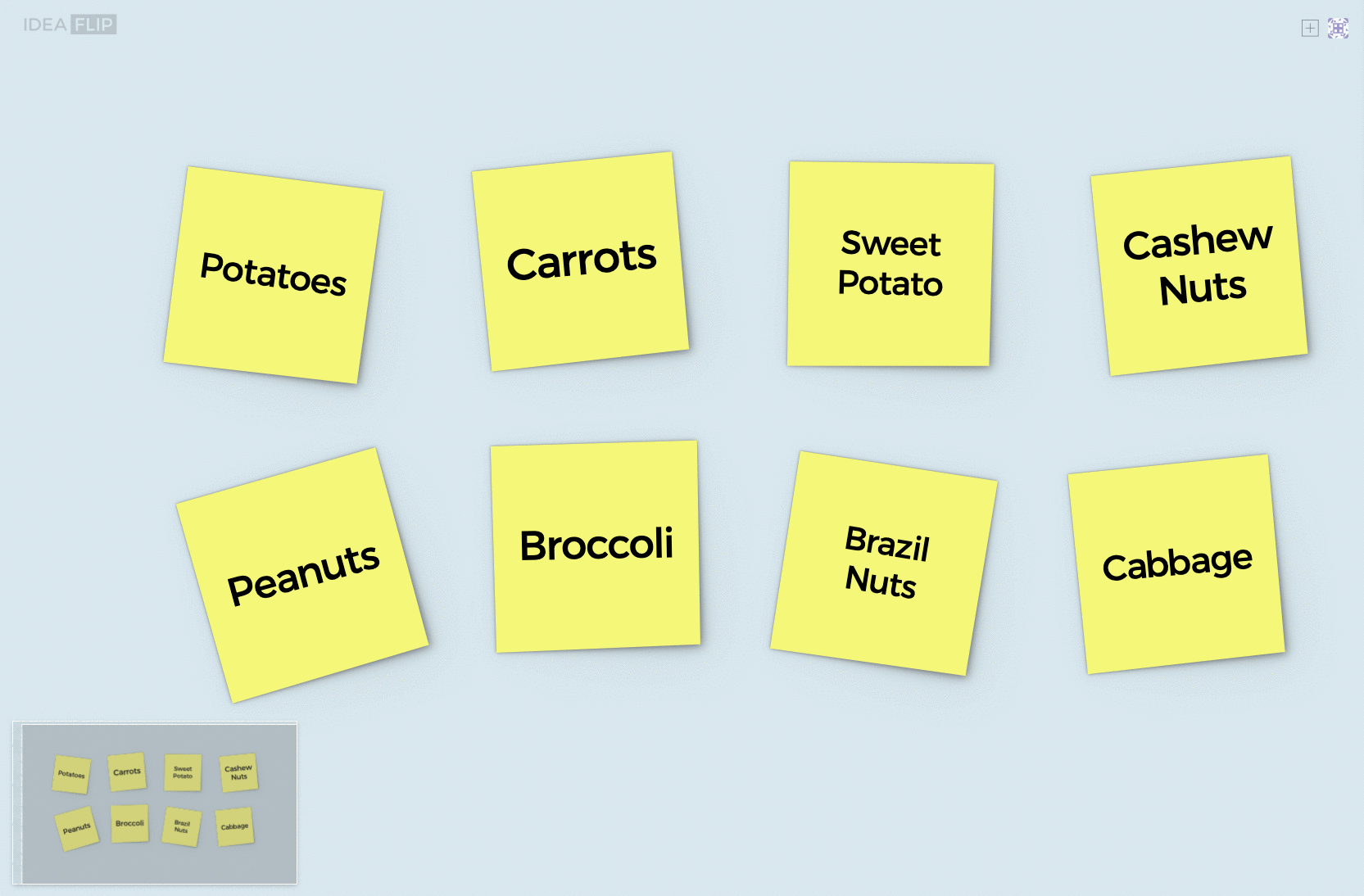 Simply hit Ctrl-F (or Cmd-F on a Mac) to go into find mode. As you type in your search text, Ideaflip will highlight any notes which match. Press Enter to move through the matching notes in turn.
...
View Full Post
---
We work in our businesses every day. Carefully ticking off each task, working with colleagues, meeting the demands of our clients and customers - all important action steps. But when was the last time you took the time to step back, plan ahead further, or think a little more strategically?
Our Understanding Your Business Ideaflip templates set out a variety of processes. Each aims to help you and your team members to understand your business a little better - from detailed internal methods, to taking a birds-eye view.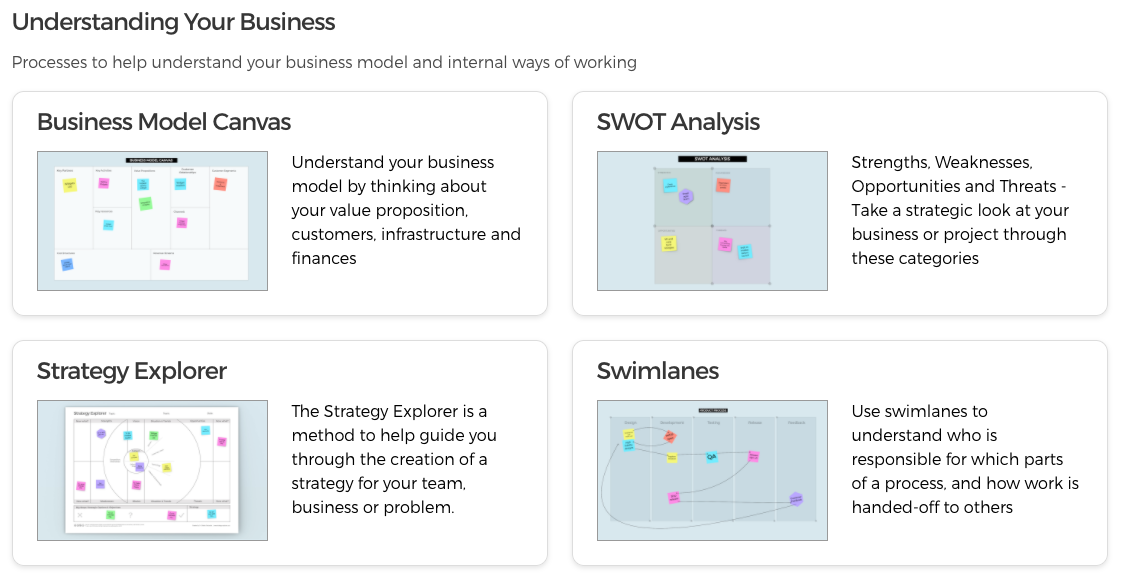 ...
View Full Post
---
Your meeting is overrunning. Someone's delivering an unhelpful monologue so you're clearing emails on the sly, wondering why you were invited. Sound familiar?
Meetings have become synonymous with wasted time. When working from home, the lack of actual human contact adds a whole new level of drudgery. We know. We've been there. We are there. But meetings don't have to be a necessary evil. After all, a meeting is just a bunch of people that need to have a chat. With a bit of attention, awareness, and creativity, you can make sure that discussions are useful, empowering, and maybe even fun.
Use our 5 criteria to steer your team towards holding an effective meeting.
...
View Full Post
---
A regular retrospective is the most important meeting you will have - It brings your team together, improves your processes and creates a powerful iteration cycle. If you aren't running a retrospective regularly, this post will give you everything you need to know to start. If you are, then we can give you some ideas to help with your existing retrospectives.
In a retrospective your entire team reflects on your process; you look at what's working well, what's holding you back, and what you should change. Together you agree on some actions or changes, then implement them. In the next retrospective you reflect on how the changes have gone, and agree on any further iterations. By going through this cycle regularly, you implement a process of continual feedback and improvement and are able to work towards a more effective and enjoyable process.
Steps
Most retrospectives will follow a similar set of steps:
...
View Full Post
---
Planstorm noun

A technique for developing a plan out of a complex and dynamic environment
In any project you probably experience a regular but surprising moment where things are sailing along smoothly, and then suddenly they're not. Something changed that you didn't see coming; A deadline or constraint appeared, someone joined or left the team, or you finished the current cycle of work, and now you don't know what to focus on or prioritise next. All the work that was ticking over nicely now needs rethinking and you can't keep it all your mind at once to figure it out.
Whenever the landscape changes like this, there's a technique that I've stumbled across to get back on track and get my thoughts in order. It's basically a brainstorming session that turns into a plan, so I'm going to call it the... Planstorm, because I'm bad at naming things!
...
View Full Post
---
Welcome to the first blog post and entry under Update Notes from Ideaflip! We'll be posting here regularly as we make updates and improvements to Ideaflip. The first couple of things we have to tell you are about our template gallery and text layout options:
Template Gallery
We've added a template gallery to Ideaflip so that you can get inspiration for how to run engaging and productive remote sessions. We'll be adding to the gallery over the next few months, so please get in touch (click the little icon in the bottom right) if you'd like to see any particular templates, or if you have ideas you'd like to contribute!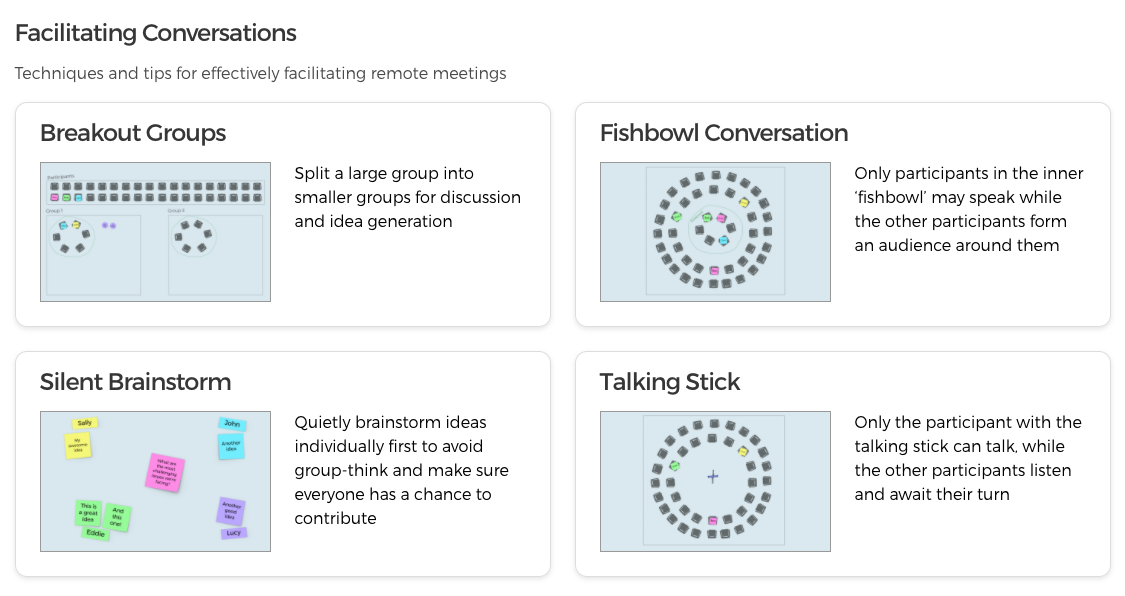 Text Layout Options
We've added some new options to control the alignment of text and whitespace in sticky notes and groups:
...
View Full Post