In this 3-part series, Rob looks at how you can use Ideaflip to help organise your event. From planning to participating on the day and getting feedback after the event.
In this 3rd part, we look at how you quickly get feedback from your event with ideaflip.
Create a simple feedback Board
Once your event is completed it is beneficial to get feedback from your attendees, however, it is often difficult to get their attention once the event is over.
...
View Full Post
---
In this 3-part series, Rob looks at how you can use Ideaflip to help organise your event. From the planning to participating on the day and getting feedback after the event.
In this 2nd part, we look at how you can manage an Unconference with Ideaflip.
Organising an Unconference
For those that are unfamiliar with what an Unconference is, it is a loosely structured conference emphasizing the informal exchange of information and ideas between participants, rather than following a conventionally structured programme of events.
...
View Full Post
---
Create the perfect template
We are delighted to announce a significant new feature for Ideaflip: Custom Templates. This game-changing feature allows you to customise not only the Ideaflip Board but the Stationery drawer as well.
Ideaflip currently offers its users a small number of templates that can be selected when creating a new board. These provide various ready-made setups for different types of collaborative sessions.
These templates are great for setting up a board quickly, but we can't anticipate all the ways that people want to use Ideaflip. With our new feature, you can now create bespoke templates from scratch that are precisely tailored to your work and team with a customised stationery drawer.
...
View Full Post
---
New feature
As part of our ongoing improvement of Ideaflip, we are delighted to introduce a much-requested feature: 'Drop-in' access. Many people asked for anonymous access to Boards and to be able to access Boards without having to create an account. Others asked to embed Boards in their websites.
Welcome Drop-in access
We rolled up these feature requests into an upgrade for the ideaflip experience. To access an Ideaflip board to view, edit or contribute its contents, users previously have had to create or sign in with an Ideaflip account for their email address.
With Drop-in access switched on, users are not required to sign in with an email address. Thus, making it possible for users to be anonymous if they wish. The link created can be made public and even can be embedded in a website. We also added an expiry date for the Board to remain editable.
...
View Full Post
---
Origins
Cast your mind back about fifteen years. The social media space was fluid; platforms arising, booming, bursting. Internet access was widening, and people were interested in creating and consuming in completely new ways. This melting pot was the very beginning of today's Ideaflip.
To wind the story back to its origins, I spoke to our co-founder, Andy Wood. Andy had met Ian Millington at the University of Birmingham, where they studied PhDs in Software Engineering. A decade later, after both had built and exited start-ups, the pair got back in touch and began working on a few projects for fun.
One that stands out: MyStickerLicious ("ridiculous!" laughs Andy). Somewhat frustratingly similar to the giant that is today's Pinterest, MyStickerLicious was named so due to similarities with MySpace, the link-sharing site del.icio.us, and the sticker-like qualities of the elements.
...
View Full Post
---
If you've used Ideaflip before, you'll know that you can delete notes (and anything that's stuck to them) by dragging them to the trash can. You've probably also drawn a group around a set of notes and dragged them to the duplicate icon to quickly create copies.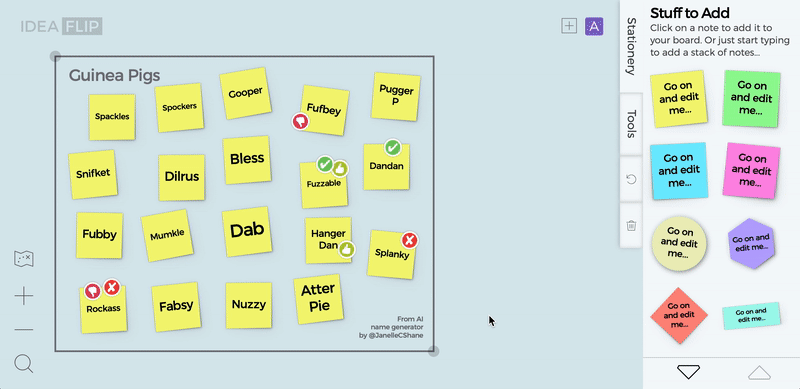 However, working with an arbitrary set of notes that aren't next to each other can be a bit tricky. So, Ideaflip now lets you select a set of notes just by clicking.
...
View Full Post
---
We've revamped the bottom left overview area of an Ideaflip board to make it easier for you to find your way around.
Zooming in and out
As well as using your mouse scroll wheel and/or trackpad, you can now zoom in and out with the handy buttons in the bottom left of a board: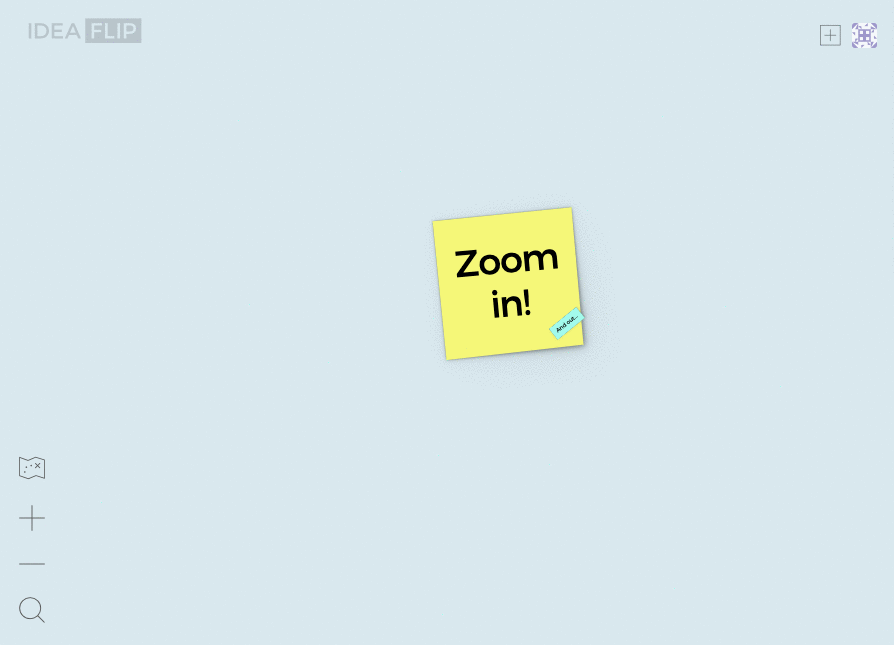 ...
View Full Post
---
The Ideaflip board invite modal just got simpler and more powerful! Now you can see a list of all members of your board, and adjust their permissions or remove them. And this comes with a much cleaner and simpler interface - We hope you like it!

Inviting users
When you invite a user, you'll see that they are pending until they've accepted the invitation in their email inbox. If the invite has expired, you can quickly resend them a new one:
...
View Full Post
---
You can now use Ctrl-F (or Cmd-F) to find notes with a snippet of text in them!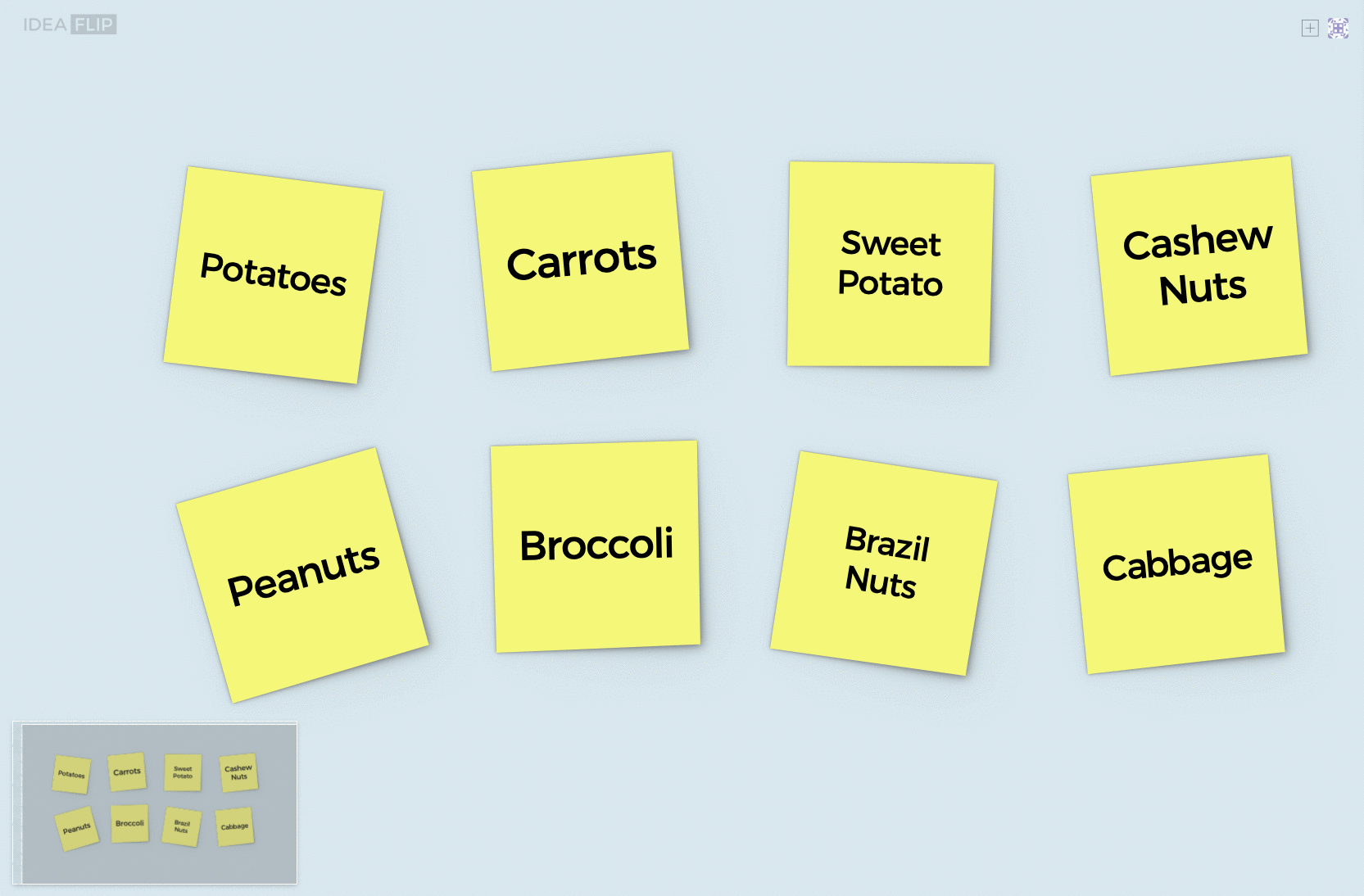 Simply hit Ctrl-F (or Cmd-F on a Mac) to go into find mode. As you type in your search text, Ideaflip will highlight any notes which match. Press Enter to move through the matching notes in turn.
...
View Full Post
---
Welcome to the first blog post and entry under Update Notes from Ideaflip! We'll be posting here regularly as we make updates and improvements to Ideaflip. The first couple of things we have to tell you are about our template gallery and text layout options:
Template Gallery
We've added a template gallery to Ideaflip so that you can get inspiration for how to run engaging and productive remote sessions. We'll be adding to the gallery over the next few months, so please get in touch (click the little icon in the bottom right) if you'd like to see any particular templates, or if you have ideas you'd like to contribute!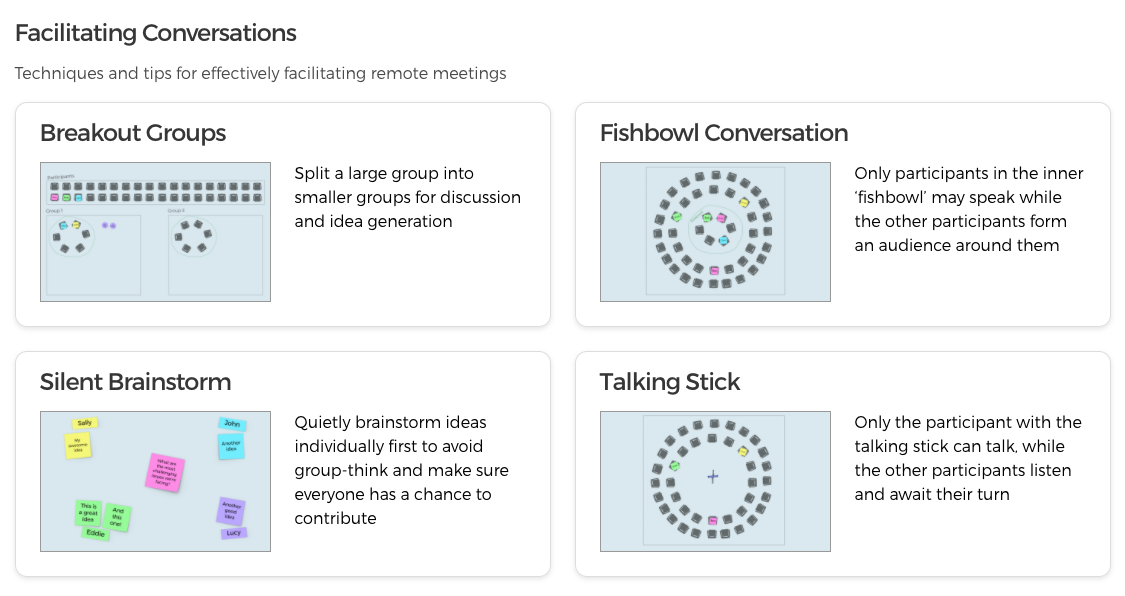 Text Layout Options
We've added some new options to control the alignment of text and whitespace in sticky notes and groups:
...
View Full Post