Origins
Cast your mind back about fifteen years. The social media space was fluid; platforms arising, booming, bursting. Internet access was widening, and people were interested in creating and consuming in completely new ways. This melting pot was the very beginning of today's Ideaflip.
To wind the story back to its origins, I spoke to our co-founder, Andy Wood. Andy had met Ian Millington at the University of Birmingham, where they studied PhDs in Software Engineering. A decade later, after both had built and exited start-ups, the pair got back in touch and began working on a few projects for fun.
One that stands out: MyStickerLicious ("ridiculous!" laughs Andy). Somewhat frustratingly similar to the giant that is today's Pinterest, MyStickerLicious was named so due to similarities with MySpace, the link-sharing site del.icio.us, and the sticker-like qualities of the elements.
...
View Full Post
---
If you've used Ideaflip before, you'll know that you can delete notes (and anything that's stuck to them) by dragging them to the trash can. You've probably also drawn a group around a set of notes and dragged them to the duplicate icon to quickly create copies.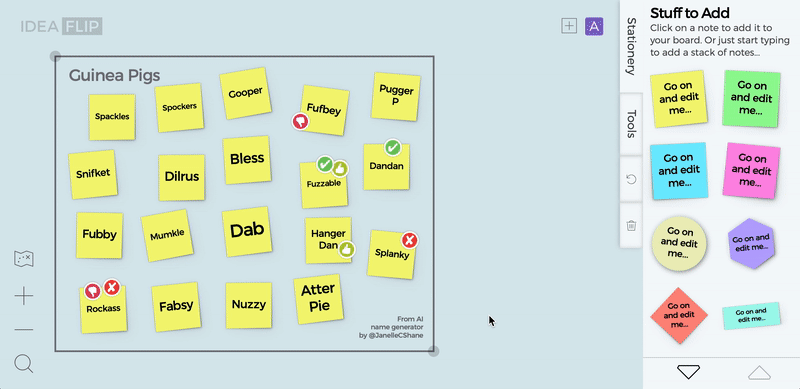 However, working with an arbitrary set of notes that aren't next to each other can be a bit tricky. So, Ideaflip now lets you select a set of notes just by clicking.
...
View Full Post
---
We've revamped the bottom left overview area of an Ideaflip board to make it easier for you to find your way around.
Zooming in and out
As well as using your mouse scroll wheel and/or trackpad, you can now zoom in and out with the handy buttons in the bottom left of a board: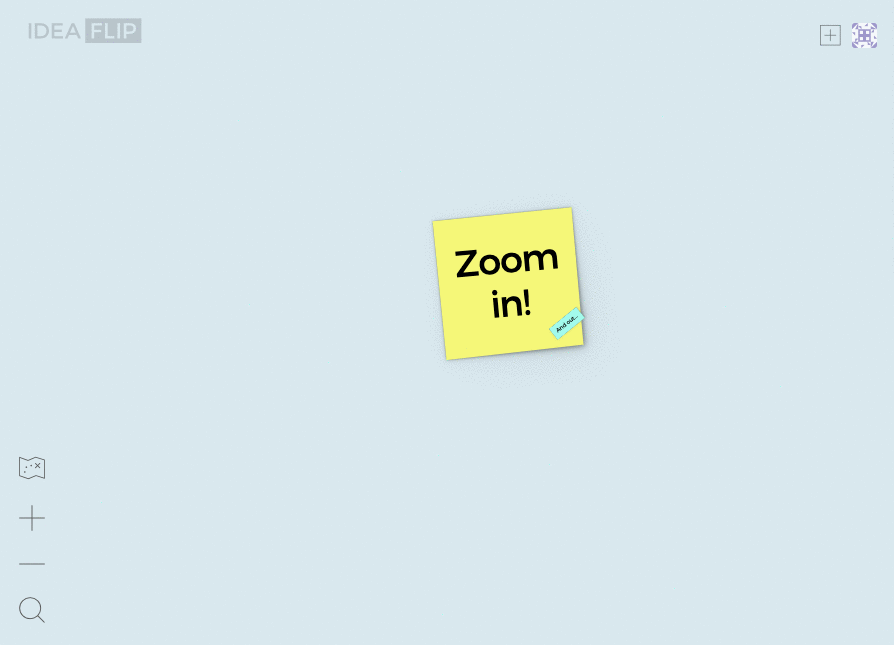 ...
View Full Post
---
The Ideaflip board invite modal just got simpler and more powerful! Now you can see a list of all members of your board, and adjust their permissions or remove them. And this comes with a much cleaner and simpler interface - We hope you like it!

Inviting users
When you invite a user, you'll see that they are pending until they've accepted the invitation in their email inbox. If the invite has expired, you can quickly resend them a new one:
...
View Full Post
---
You can now use Ctrl-F (or Cmd-F) to find notes with a snippet of text in them!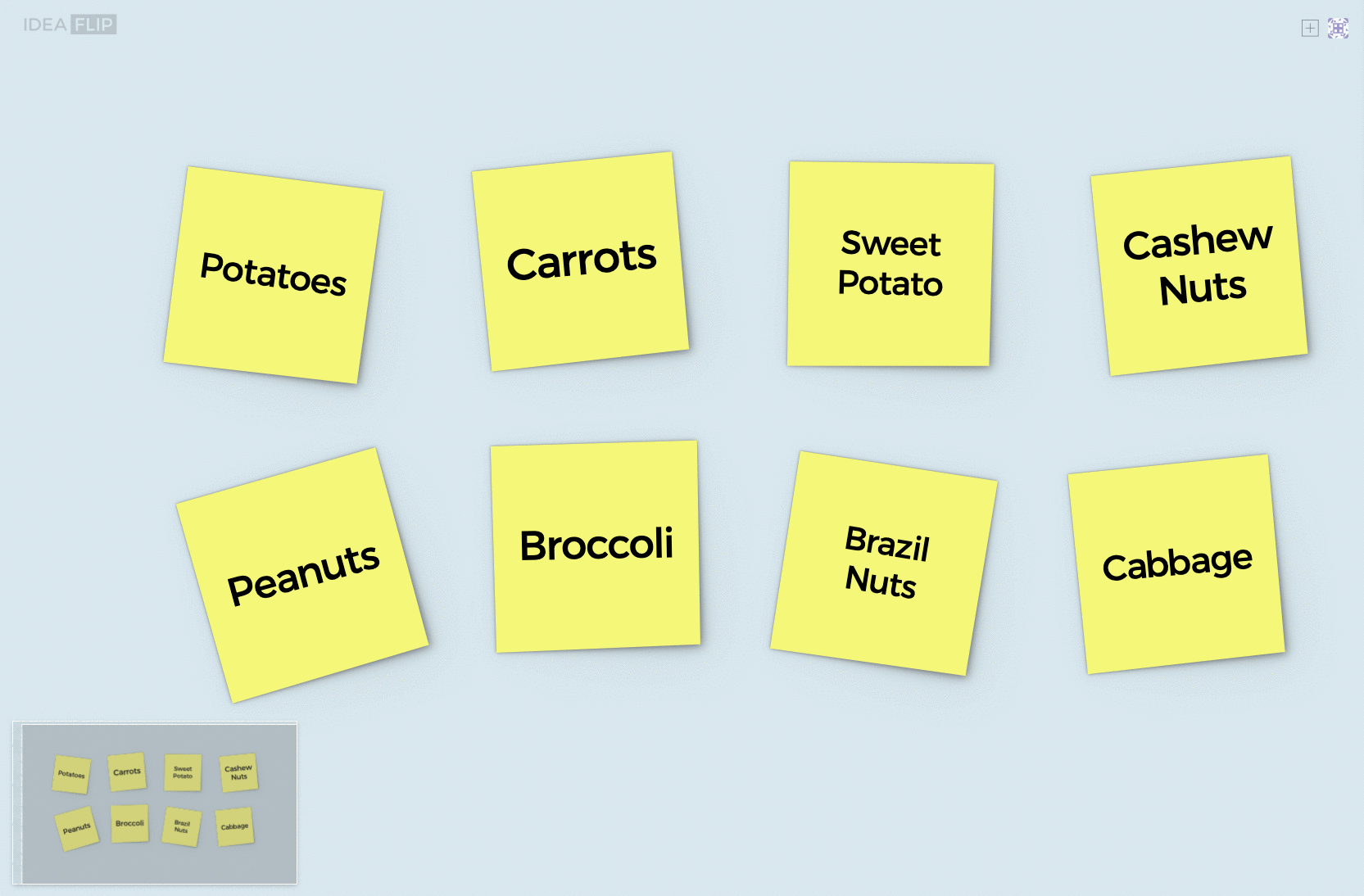 Simply hit Ctrl-F (or Cmd-F on a Mac) to go into find mode. As you type in your search text, Ideaflip will highlight any notes which match. Press Enter to move through the matching notes in turn.
...
View Full Post
---
Welcome to the first blog post and entry under Update Notes from Ideaflip! We'll be posting here regularly as we make updates and improvements to Ideaflip. The first couple of things we have to tell you are about our template gallery and text layout options:
Template Gallery
We've added a template gallery to Ideaflip so that you can get inspiration for how to run engaging and productive remote sessions. We'll be adding to the gallery over the next few months, so please get in touch (click the little icon in the bottom right) if you'd like to see any particular templates, or if you have ideas you'd like to contribute!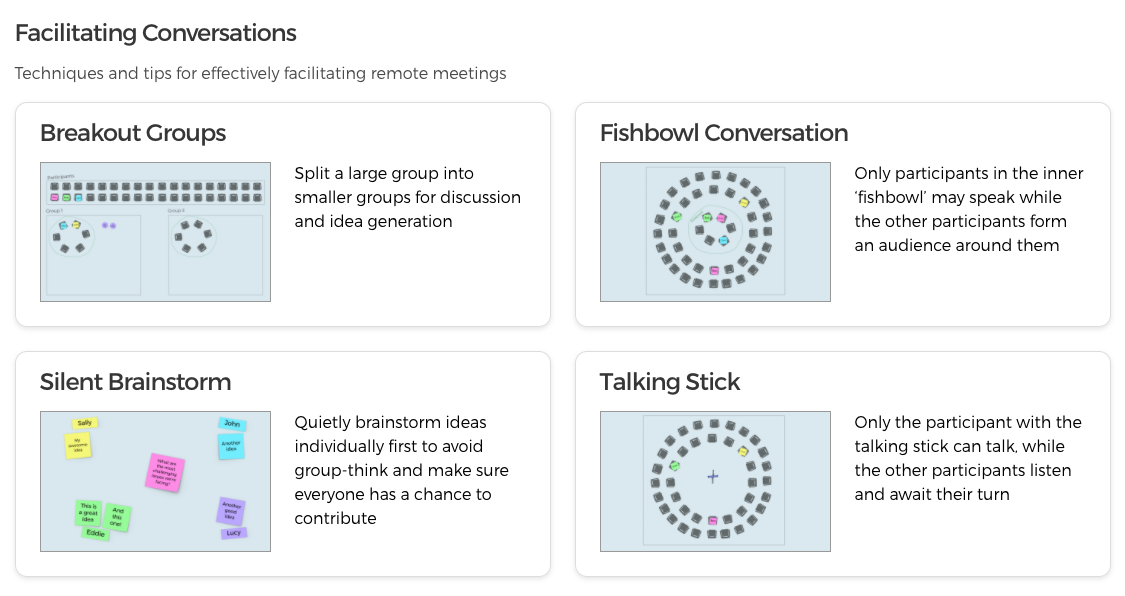 Text Layout Options
We've added some new options to control the alignment of text and whitespace in sticky notes and groups:
...
View Full Post